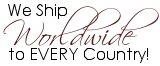 We ship Worldwide to Every Country
We accept Visa, Mastercard, American Express, Discover, PayPal.com, Personal Check, Money Order, Cashiers Check.
Paypal Merchant
since 1998!
Go back to our home page after signing up by clicking our here:
www.collectorsaddition.com
If you get a security certificate warning here - not to worry Constant Contact is a different company than ours, but their site is safe.
Current Sale Running:


Hurry! Sale Ends 11/24/17 11:59ET

You can sign up on our General Email list to be sure you don't miss out on anything.
Also, Be sure sign up on our Yahoo eGroup Sales/Specials lists to get notices by Specific Animal or Manufacturer and be first to learn about sales:
Copyright © The Collector's Addition 2000-2017, all rights both domestic and international are reserved. The entire contents of this website – www.collectorsaddition.com (including but not limited to text, graphics, photos, and source codes) are copyrighted as a collected work under the United States Copyright Act. Copying, transmitting, or reproduction is not allowed without the express written consent of The Collector's Addition.